Id like to start off my blog with an introduction (for those of you who don't know) to the UK's No1 cake artist IMO, now I know there are many amazing cake artists in the UK and some may argue over who has the No 1 spot, but this is my opinion and  I am sticking to it. Meet…
Emma Jayne Morris
Emma is from Wales and she travels all over the world to teach and show her sugar artworks. Emma's work is a regular feature at Cake International.  She WOW's us all with her life sized sugar sculptures with such skill, she is just amazing, super talented and ever so nice. If you get a chance to talk to her you will instantly agree how personable she is and ever so wiling to answer questions.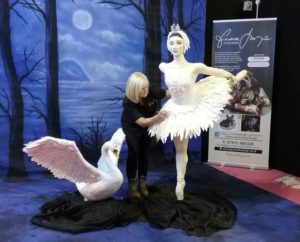 Emma comes from a background in fine art as a portrait artist, her cake business; Emma Jayne Cake Design was founded in 2012 after having decided to use her skills for a different art form. I for one, am very happy she chose to branch out,  As are most of you, who chose to vote for her as your international cake hero at the recent Cake masters awards night.
Her works have included War horse, Maleficent, Swan Lake, Avatar, A huge Polar Bear from His dark materials and even a suspended acrobat and I am completely in awe of her talent. What will she do next?
I had the pleasure of her company for 2 days during a class where we shared laughter with Marta Hidalgo and Michael Lewis Anderson, (admittedly mainly at my daft antics) even so I felt honoured to have such talented people in my little London studio.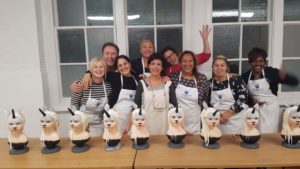 Emma has promised to come back to teach a class for us, her new classes are amazingly cute. I'm not sure I could pick between the furbabies.
So I have started a waiting list, and if you are interested in taking a class with Emma Jayne pop over to her class listing and fill in the free purchase form which will enable us to let you know before the masses. A whole 5 days before I let my email list know and 7 days before the gereral public are told she is on her way!
AFFILIATE DISCLOSURE
This article may contain affiliate links. If you click on one of my affiliate links and make a purchase, I may receive a commission for referring you. This comes at no additional cost to you.
Please know that I only recommend resources I like and highly recommend.